There is a seasonings shortage in Australia, apparently, so don't expect any salt, pepper, salad dressing, or taste, with most of your food.
It's not bad, it's just not flavorful.
I have to warn you also, that service has a different meaning in Australia. Down under, good service is when the waitress doesn't bother you all night, never asks how you're doing, and doesn't smile (that would imply over-zealousness).
Australians find American service to be terribly intrusive (said one guy to me, "I thought the waitresses in America were going to sit down and eat with me").
Downtown Sydney is an exception to this. So be prepared.
On the plus side, the beer is excellent and cold. Oh, and the wine is also excellent, and cheap.
Alcohol - the great equalizer.
We started our trip in the Southern cities. Sydney is truly one of the great cities of the world. Clean, relaxed, with everything you could want. Like a combination of San Francisco's eclecticism and San Diego's sanity.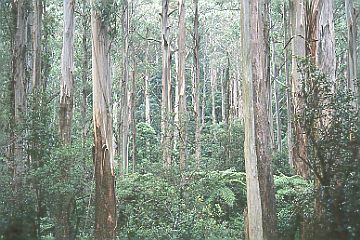 The Forests of Southern Australia
Next was Melbourne. What I remember most from there is a conversation with an Aussie about vegemite. He said, "vegemite is to us Aussies, what bubble gum is to you Yoinks. We love it."
To which I responded, "Yeah, but we spit the gum out when we're done."
Adelaide followed, but served mostly as a gateway to Kangaroo Island, where we viewed an arks' worth of wildlife.
After Kangaroo Island, we headed for the Outback, by train.
After exploring the 'Red Center', we went to Katherine Gorge for two days, and took the boat trip, then continued to Darwin. There, we went on a four day camping trip to Kakadu NP, Crocodile Dundee country.
In Kakadu, my love of swimming holes was satiated. I swam every day, under waterfalls of all sizes. Cliff diving is great here.

We then flew to Caines to dive on the Great Barrier Reef.
This was one of the most disappointing moments of my life. We signed up for SCUBA lessons, but when the doctor found out that I had open-chest surgery as a child, he rejected my application. No amount of begging could change his mind.
We decided to go on the trip anyway. The snorkeling was, of course, great. We saw sharks, giant clams, coral reef, sea turtles, and tons of fish. All-in-all, an excellent three days, but still a disappointment.

This ended up being the longest trip we've ever taken, and it's Angies favorite.

More Australia
-See the wildlife
-Visit the Outback


A Kakadu Waterfall