Where there's a courtyard, of course, there must be a gate. Or four.

An average temple probably has 5 to 10 gates, a home will have a few, then there are palaces, hotels, and public buildings.
I wouldn't be surprised to find that there are a million gates on the island of Bali.

There are normal gates like the one to the right, there are door-less gates, and there are split gates; where there is no top piece.
There are brick gates, coral gates, and gates carved from stone.
There are simple gates, and there are elaborately carved gates.

This gate is not finished yet. The top pieces will be carved into more detail at a later time.
This is common, usually due to a lack of funds.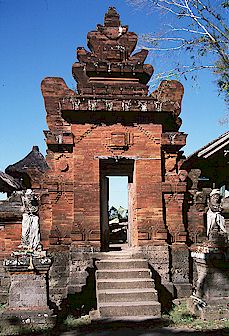 A Gate