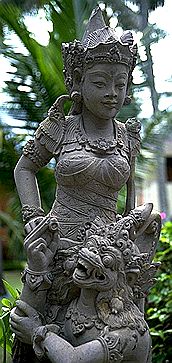 Legong Dancer
Sculpture is a good example of art in Bali. It's everywhere.
It's in the temples, in the hotels, in the gardens, on the houses, along the roads.
Sculpture is created on public buildings, for the gods. It's considered functional, as a part of life, not as something separate.
Artists are rarely identified. Much of the carving work is shared among numerous craftsmen.
The carvings are done in volcanic rock, known as paras, which is excellent for detail, because of its' softness.
Because of this softness, however, the carvings don't last long in the tropical weather.
This means the sculptures must be redone every 20 or so years.
Far from being a disadvantage, the result is that the art of sculpting has never had an opportunity to die.
With the growth of tourism and hotels, carvings are more prolific than ever. Artists have expanded from purely religious themes, to more commercial ones, like dogs and lanterns.