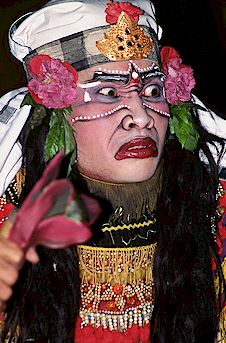 Rangdeng Dirah, the Widow
At this point, the Barong appears and we get the life and death struggle of good and evil again.

When the Calonarang is performed at festivals, it can go for hours and hours. There are bits of stand up comedy performed in sections of the play, solo dances are performed, there are variations of the legong, and a fair number of attendees fall into trances.

I watched a festival performance in the wee hours of night for about four hours, but since I didn't understand the stand-up comedy bits (though it was interesting to see that the humor was very low-brow), I left in the middle of a long spoken passage.

Still, it was interesting to see the differences between the tourist shows and the 'local' show (basically, more energy and audience interaction in the 'local' show).
I highly recommend it.