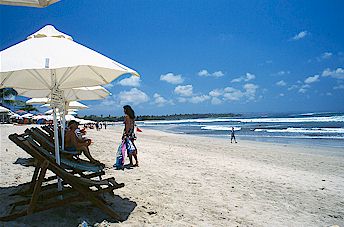 Kuta Beach
This is the Bali most tourists come for. Sadly, this is all of Bali that many tourists see.
Actually, though, this is by design. The government hopes that, by keeping tourists on the beach, the average Balinese will not be negatively impacted by tourism.
The plan has worked, to some extent. Most of Bali is unspoiled, while prosperity has come to the dry south, an area that is unsuitable for agriculture.
And, what the heck, it is a nice beach!