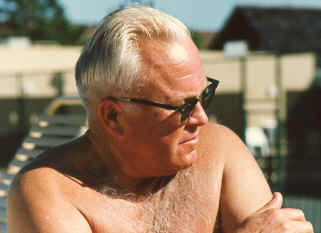 My Dad, Sam Hughes, in 1987
On March 25, 1962, shortly after American astronaut John Glenn returned from orbiting the earth, I entered it. I was born that day in Niles, Michigan, USA, to Sam and Mary Lou Hughes, with an irregular heartbeat.

I was named Glenn (as opposed to John), with the middle name of Cash (after James Cash Penney, my family has a history with the J.C. Penney Co.).

The heart problem was corrected by open chest surgery. My mom likes to tell the story how, as the doctor wheeled me away, I looked back and quietly, calmly repeated "ouch, mommy, ouch".