Please don't try this at home - we are professionals.
It was a company sponsored event, so we did some team building activities. We played volleyball, collected shells (sand dollars are common enough to worth less than the rupiah - barely), shot some pool, swam a lot, threw the Frisbee, dodged malarial mosquitoes, and a portion of the crew actually ran around in the heat chasing a ball (calling it football, but I wasn't fooled).

KLA-Tencor Singapore - Work Hard, Play Harder!
We also had a number of Singaporean Triathletes with us on the trip.
The competition was stiff for the first two events, Eating and Sleeping. Unfortunately, we were not able to complete the Triathlon, because there was no Shopping available.
Sometimes, in an emergency, the Singapore Triathlon Federation will allow Movie Watching to be substituted, but, alas, the cable facilities at our hotel were primitive, at best.
Maybe next year....
Kevin celebrated his birthday by keeping Ayu, Bintans' Belle from Bali, busy in the bar. Ayu delivered service with a smile, a laugh, a wink, and a helping of Balinese style. Look her up if you stay at the Mayang Sari.
We know she's good, because she even got a half a grin out of Kevin.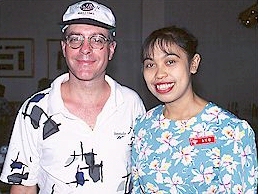 Kevin and Ayu
The weekend ended quickly, but not without another surprise. As Kevin and I returned from a bar run (we were taste testing pina coladas from competing resorts - it was a tie), we spotted a nocturnal mermaid! Imagine our surprise.
We tried to catch her, but not only was she smarter than the average fish (she didn't take our bait), she was also faster than us (we blame it on the pina coladas).
She was not, however, faster than my camera.
Ladies and Gentlemen, behold the Nocturnal Mermaid of the South China Sea.

Nocturnal Mermaid Sighting (ie. Nicole Ong)