In five years, we grew deeply accustomed to the California lifestyle (fill in your own hedonistic beach, mountain, snow, and movie fantasies here), and deeply appalled by the cost of housing.

California is almost everything you've heard. There are less beautiful women than you see on TV. And there is less crime and bizarre behavior than you read about in the papers.
California is typically American in many ways, and yet it's a different country in many other ways.
It's a big state, and it contains almost all the different geographies, climates, and people that you will find in America (and the world, actually). But Californians don't work like most Americans, don't play like most Americans, and have a bigger view of life than most Americans.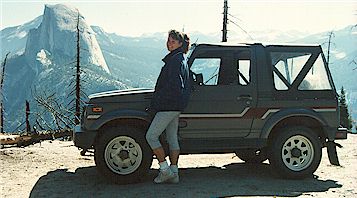 The Mighty Slamurai does Yosemite
An example is my Suzuki Samurai. When the rest of America heard that the car had a tendency to flip at high speeds (hence the nickname 'Slamurai'), sales plummeted. Californians looked at the car, thought, "Wow, a cheap car with four wheel drive and a convertible top" and bought lots of them. Sure it flips, if you drive too fast (duh, it's a jeep), but Californians have a tendency to accept things (and people) for what they are, not what they are not (with the exception of smokers, who are slowly being banished to hell!).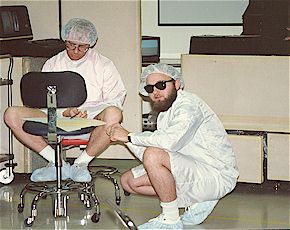 Paul and Bill, working hard
KLA Instruments provided me with a great work environment and lots of challenges. As you can see in the picture above, this is a Silicon Valley company (laid-back, casual).
The company is now more professional, and I'd like to assure any customers who stumble onto this page that we no longer wear shorts into the clean room (back then we had particle-free legs). And I won't make any jokes about how a good engineer needs quick access to his tools.

While living in San Jose, we added a new member to our family. Her name is Indiana. Half Lhaso Apso, half Terrier (we think....), totally unique, Indiana is a ball chasing, backrub-loving ball of fur.

Finally, a trip to Baja, on Steinbeck's Sea of Cortez, convinced us that there was a big world out there, hiding from us.
In 1991, we left California, to more nomadic job opportunities, vowing to one day return (with enough money to afford quality housing). One day is still out there somewhere.


Little Indy