If ever a river resembled a mobius strip, it must be the Li.
Six hours of floating brought us 83 kilometers, but we might as have been back at the start for all we could tell.
It was as though they had packed up all the funny shaped rocks, goofy cormorants, rustic bamboo rafts, and noisy carts selling English versions of Mao's Little Red Book and drove them to Yangshuo to be waiting for us. Yangshuo itself was very different from Guilin, but the river was an unchanging carousel.
That's what I loved about it.
The constant horizon of limestone crags is hypnotic. The peaks just unfold wave by wave. The sameness creates a relaxing rhythm, like taking a walk through a bamboo forest or watching clouds roll overhead.
Six hours of rocks and water, water and rocks, might seem like a long trip, but it wasn't enough for us. We were back for more, two days later.
What can I say? I was in the mood to name a rock.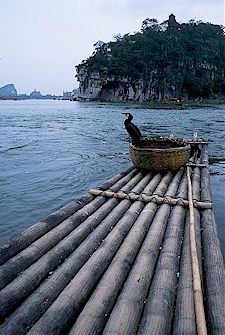 Cormorant on a Bamboo Raft