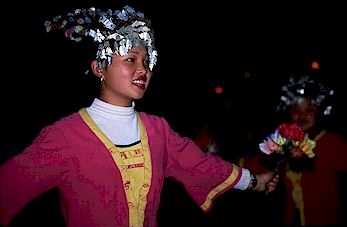 Miao Dancer
Chinese Performers
In Yangshuo, we were lucky enough to stumble upon a Labor Day celebration.
The event was held in a courtyard, outside of a beautiful old Chinese building.
The show opened with a Lion Dance.
This never fails to capture the attention of the audience, young or old.
There were three lions - dancing, jumping, blinking, running, and rolling on the ground.