So let's forget the future of Shanghai. There's plenty of reasons to talk about today:

For example, the interesting architecture; ranging from the European influence that starts at the Bund and spreads across town, to the traditional Chinese architecture around Yu Yuan (including a 400 year old tea house and garden), to the Soviet inspired Exhibition Center.

There's the famous Shanghai Acrobatic Troupe, a must-see for every visitor to the city, and the incredible new high-tech Shanghai Museum.

We can't forget the death defying traffic - two people a day die here - which is frightening by foot, bike, bus, or car.
Communism means everyone has an equal opportunity to die, I guess.

Each and every time we were on the street, we felt that buzz that only comes from true adventure.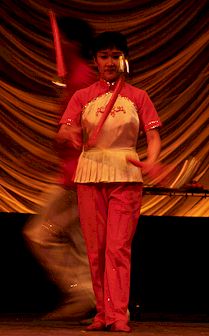 Juggling Communism and Capitalism