And then there are the street merchants.
There are men selling food. There are men selling newspapers and other such articles. And then there are the men and women who offer haircuts and massages. A few came running after me, with their folding chairs.
Though my hair was getting too long, I had to refuse.
Call me wimpy, but I never let a man in a butcher's outfit cut my hair.
I don't know why.
It just seems like a good general rule.
Angie, on the other hand, collects massages.
So, we sat, between the street and the lake, while this man gave her a head, neck, and leg (yes, leg) massage.
In his butchers' jacket.
On the streets of Beijing.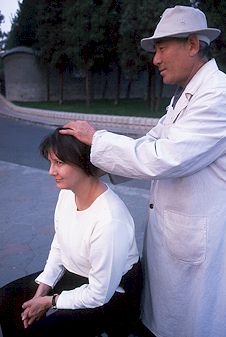 Street Side Massage, Incorporated