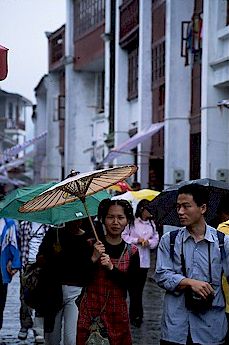 Wow - A Real Paper Umbrella
Besides the mountains and quiet, Yangshuo is popular for it's main shopping street.
It looks exactly like a tourist would picture China looking like.
You could easily picture Jet Li kicking Donnie Yen's butt all through town (if you don't know what I'm talking about - rent "Once Upon a Time in China 2" and thank me later) while the Wong Fei Hung theme plays.
I walked around town telling everyone that I'm a master of the "drunken air guitar" school of kung fu and was looking for a challenge, but everyone was way too nice to listen to me.
So I shopped.
The street is full of really cool stores. I looked at piles of paintings, bundles of books, gobs of ....garbage (you see where this is going, right?). Okay, okay, I'll stop.
Finally, I settled on an 'antique' Chinese Opera puppet.