There, under the banyan tree, you can listen to the Hiram Olsen Trio play Hawaiian classics, while sipping a Mai Tai. Order the excellent appetizer combo plate, if you're hungry.
But, as wonderful as this may all seem, the best is yet to come. Here, the main attraction is former Miss Hawaii, Kanoe Miller, who dances a graceful hula every night in front of the setting sun. The sun disappears quickly, to the oohs and aahs of the gathering crowd, but Kanoe dances till 8:30. Oh, did I mention that the show is free?
Best bargain in the Pacific!
Or you could sit by poolside at the Sheraton Princess, drinking a 'fire dancer', the hotels' potent specialty, while enjoying the fire of the real dancers.
Or you could go to Tapas, a bar in the Hilton Hawaiian Village, where a duo plays until 11:00 each night.
Yes, they have a dancer.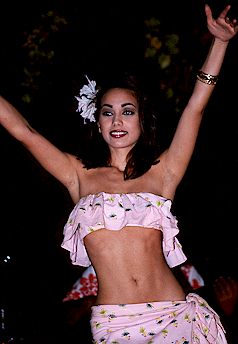 I found the Sheraton Princess....