Japanese girls oohing and ahhing and taking pictures to the left of you.
Midwestern tourists wearing baseball caps and white socks to the right.
European men are baking in the sun with their bikini briefs climbing up their crack.
And the natives are just hanging, laughing, and trying to make a buck by taking your picture with a parrot!

On Waikiki beach, there are no majorities, no minorities, and no attitudes. Just aloha...

It's easy to fall into a rhythm. Swim, sun, surf, shop, siesta, stare, snicker, stare some more, salivate, slurp a drink - then start again.

At least till it rains. It rains quite a bit here.
It's funny watching people lay everything out, then a short rain comes, and they pick everything up. Then the rain disappears, and they lay everything out again.
Just like shampoo. Rinse and repeat.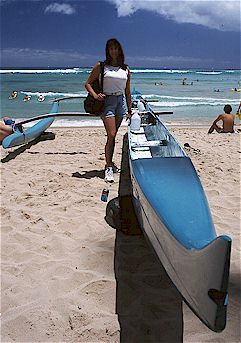 Where are the keys to this thing?