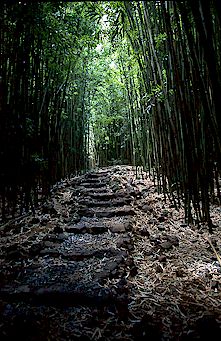 East Coast of Maui
Secondly, the restaurants of Lahaina are among the best in the world.
We ate at The Hula Grill (wok charred ahi, lobster pot stickers), David Paul's Lahaina Grill (kona crab cake, tequila shrimp and firecracker rice), A Pacific Cafe (wok charred mahi mahi), and PacificO (prawn wontons, Maui onion salad), Longhi's (cioppino over pasta). Our worst meal was still a taste of heaven.
I took surfing lessons one morning. Yes, I caught a couple of waves. But man, that's a seriously tiring pastime. I kept looking for the lift line!
Then on one day, we drove around the island. My car lease said I couldn't, so of course I had to.
We went around the north side of Maui, through the town of Haiku (do they have the shortest newspaper articles in the world there?).
We continued along the dramatic coastal road, spotting an