But I would soon enough.
In Japan, the maple leaf is fried, tempura-style, and served during the autumn season. It tastes like tofu does, when it's fried. Which is to say that there is no taste except for the fried taste, and whatever sauce you dip it in. So it won't kill you, but I wouldn't spend my last 500 yen on a plate of it.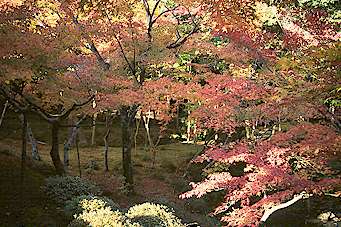 Fall Foliage at Kokedera
Regardless of how they taste, maple leaves in Japan can be provide spectacular colors. The maple trees aren't as numerous as cherry trees, and they don't carry the same symbolic weight, but viewing them is quite popular.

Moss and Maple Leaves
To me, the best place in Japan to view the autumn foliage is Koke-dera, the Moss Temple. The contrast of the muted green moss and the vibrant leaf colors is really a feast for the eyes.
Almost good enough to eat.