Mt. Fuji is so big and so dominant, that there are literally hundreds of unique vantage points from which to enjoy it.

Hakone, for example, is a famous hot spring town near Mt. Fuji, with a lot of attractions. The nearby lakes and mountains provide many ideal locations for viewing Fuji-san.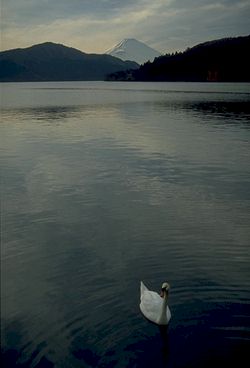 Mt Fuji from Lake Ashi
In addition to the land views, there are also excellent views of Mt. Fuji from the ocean and from the coast of the Izu Peninsula.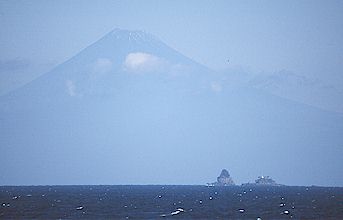 View from the Izu Peninsula
Of course, the pull to climb Mt. Fuji is strong. So we did.
Climbing this mountain is not a nature experience. A Tokyo sidewalk would have been less crowded, and there is nothing but volcanic rock to be seen. The terrain has been likened to a walk through an ashtray. The only real reason to do the hike is to have done it.
The Japanese love their symbols, and Mt. Fuji is the grand-daddy of Japanese symbols.
In fact, the ultimate goal is to stand on top of one Japanese symbol, Mt. Fuji, and view another Japanese symbol, the Rising Sun.
So you stumble up the mountain in the dark of night, arrive about 30 minutes before sunrise, watch the sun come up, ooh and ahh a bit, take a picture or two, buy a souvenir, and then head back down to the warmth of home satisfied that you'll never have to do that again.
As the Japanese say: Only a fool doesn't climb Fuji-san, but only a fool climbs it twice.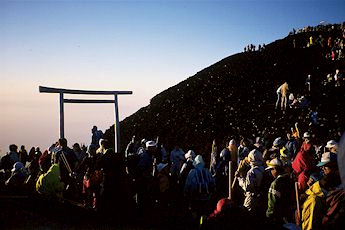 Sunrise on Mt. Fuji