If it's not April, you can still see a geisha dance at Gion Corner, a tourist show that is performed nightly. The show includes a tea ceremony, a koto performance, a comedy routine, a puppet show, and the geisha dance.
It's a little touristy, but well done, and provides a very good overview of Japanese arts.
Another way to see geisha is to wander around Gion and Potoncho, the eastern neighborhoods of Kyoto, at the end of the day. The geisha (translated means 'Artistic Performer') can be spotted moving from their tea houses to the restaurants where they will be performing. If you're lucky you will run into a few.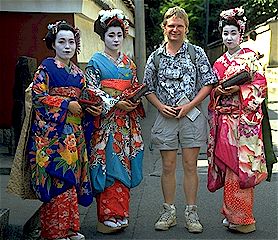 Lucky again
Usually the geisha, always a center of attraction, will lower their heads and quickly shuffle to their appointment, so take your pictures quickly. Sometimes you might get lucky, though, like I did on this occasion, and persuade them to stand for a photo.
The final way to meet a geisha is to hire one. So we did.
Actually, you have to hire two. Fujika-san was the geiko at my Osaka going away party, and with her was a maiko named Hagika-san.