So what does Kyoto offer?

Temples and shrines.
There are hundreds of beautiful religious buildings. The temples are rich with history.
Politics, wars, art, culture, jilted lovers, and even some religion found homes and breeding grounds in the temples and shrines of Kyoto.
Gardens, sculptures, architecture, nature, and serenity (if you stay away from the 10 or 12 most popular tourist temples) are available at the hundreds of shrines and temples that are all over this great city.

Architecture.
The neighborhoods of Kyoto have stood for a thousand years. No building is old unless it's been there for 200 years. These buildings set the standard for tastefulness, class, and comfort.
No need for me to write more about the excellence of Japanese architecture. It speaks for itself.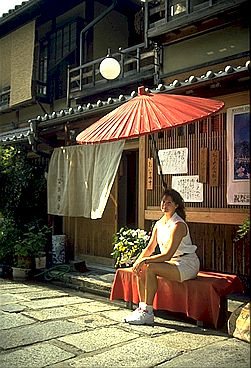 Traditional Street