The most common matsuri are the spring and autumn rice festivals. Rice is still the national food, and the kami of rice is the kami of fertility, so it's an important event.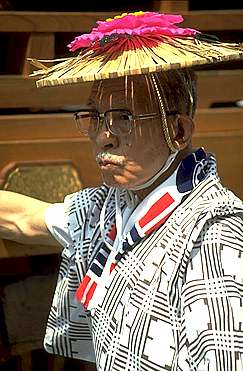 Colorful Costumes
The kami is invited to inhabit a portable shrine, called a mikoshi. This mikoshi is paraded around town, to spread the power of the kami. The kami loves a good time, so this is not a stately procession. It's a noisy, boisterous celebration marked by a healthy blend of chanting, yelling, sweating, drinking, and flirting (remember, this is also a fertility festival).
On the night that I returned from climbing Mt. Fuji, I stumbled on the Tachikawa Matsuri. An older man insisted on dragging me and my burning, aching calves into the procession.
I can assure you, a mikoshi is damned heavy. I'm taller than the average Japanese male, so I had to either carry a lot of weight on my shoulder, or stoop below the height of the other participants. Either way was hell on my legs.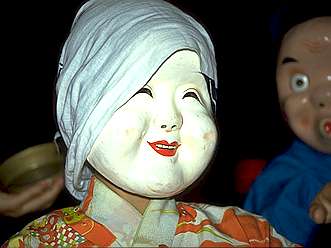 A Matsuri Dancer
I carried as long as I could, at least 30 or 40 seconds, and then backed out. No way, he took me to another mikoshi, then another, then a final one. He listened to me describe the pain in my legs from climbing Mt. Fuji, then nodded and ran off. I thought I scared him away.
No such luck. He returned with a purple flower, that is called Fujiyama. He stuck it in my hair, then sent me out to carry the shrines again.