Then there was a performance of the classical Ryukuan court dance.
Finally, Kina-san and his band took the stage. I have to say, I've never witnessed a bigger gap between the recorded works of an artist, and his live performance.
Shoukichi Kina's recordings are fun, well played, occasionally moving, and worth buying.
His live performance, however, reminded me of The Who.
From the first notes, this was a no-holds-barred, take-no-prisoners approach to music and the audience.
People danced. People sang. People cried.
One moment, Kina would be as still as a Zen monk. The next moment, he would be playing like a man possessed - flinching, twitching, and violently plucking his shamisen.
And then, when it was over, he sat quietly in the lobby, signing autographs, while surrounded by books and posters promoting world peace .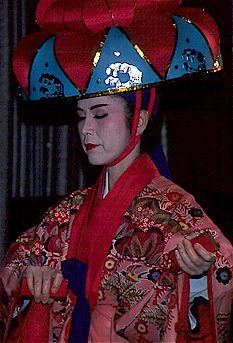 Traditional Dance