And the most famous street for eating is Dotombori. We often went here for food, shopping, drinking, karaoke, or people-watching. The worlds best Hard Rock Cafe is near here, and so is the worlds strangest Haagen-Dazs (moving toilets, a merry go round where you ride on women's laps, and chairs where the legs look like a fat woman's legs).
Harrison Ford filmed a Kirin beer advertisement here, as well (you can always get a laugh by ordering your beer, "Kirin Laga Biru Kudasai", just like Harrison did).
Quite a bit of Black Rain, the Michael Douglass movie, was filmed here.
Japan is full of strange sights, and Osaka is no exception. You know that saying about 100 monkeys with typewriters making a novel? You ever wonder what happens with the bad stuff? Sometimes I think that all the stuff that the monkeys made that's really weird ended up in Japan. It seems that no idea is too off the wall.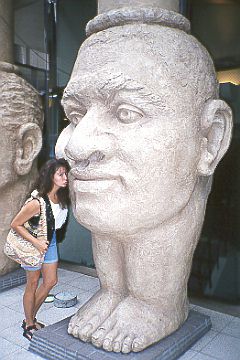 Angie's new friend