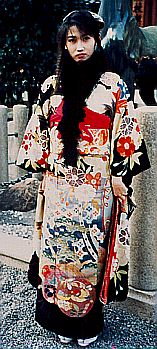 New Years' Shrine Visit
We met Oshimo-san in Osaka, when we moved there for work. She's funny, smart, and friendly. She's open and willing to talk about any subject. She speaks good English and was very patient with my terrible Japanese. She was a great help with any problems or questions we had in Japan (which makes her, in one way, a very typical Japanese). She's also modest, so she'll be terribly embarrassed by what I'm writing here.

She loves to travel, and lived in Australia for one year. She scuba dives, and skis (though she hates the cold), sings karaoke, talks loud (an Osaka habit), and laughs a lot.

Oshimo-san, like many 'new' Japanese women, has lived a fairly independent life. She postponed marriage and children - well past the traditional 'marry by the early twenties' mentality of the past - and spent that time with her friends and her interests.
She's done free-lance work, contract work, and worked for companies.

True to her Japanese roots, though, she's also been a key member of her family. She's given up her own goals, to help when other family members had problems. "No big deal," she'd say. "That's the way things are done in Japan."