The exception is when there is a festival.
In October, there are two parades. One for the Independence of Taiwan (from China). The other for the Independence of China (from Taiwan?). If you care to track such things, the Taiwanese celebration drew a lot more people, the year we lived there.
| | |
| --- | --- |
| A Dancer | A Young Celebrant |
The entire Chinese community comes out of hiding for the parades.
October in Japan is a great time to be alive. The monsoons are over. The humidity of summer is gone. The sun is warm and the air is cool.
It's a perfect time for a parade. The participants wear costumes from all the regions of China, so it's pretty much a photographers' delight.
In January or February (depending on the moon), there is the Lunar New Year celebration. This is a big event, with performers from Hong Kong, Singapore, and China participating.
Lion Dances, Dragon dances, and Acrobatics are again the order of the day.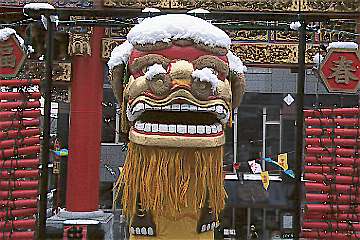 You can almost hear his teeth chatter...