Now take the Canyon Trail along a knife edge ridge that gifts you with vertigo-ripe views into the heart of the gorge (resist the temptation to jump).
Continue to Waipoo Falls. Here you can swim in a cool pool of water, at the top of a thousand foot waterfall. I did, because this, after all, is the Hawaii we dream of.
Hike back to your car via the Hanamalu-Kokee trail.
Do yourself a favor. If you see any coconuts, don't break them open by throwing them against trees. I did, and rancid coconut milk exploded all over me. King Kamehameha's Revenge? Maybe. Anyway, every time the breeze stopped, I'd get a whiff of myself and almost vomit.
Still didn't ruin the hike.
2 - Save all your pennies and take the Full Helicopter Tour. We flew up Waimea Canyon, through the spires of Na Pali, around the coast to Hanalei, then into Mt. Waialeale, one of the wettest spots on earth.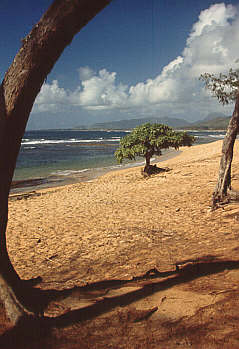 East Coast of Kauai