When I think of the guys I worked with - Boon Hui, Wilfred, Vincent, Peter, Eric, Paul, Pang, Mat, Alan, and others - it's hard to imagine a need for the 'Smile Singapore' campaign.
It was always harder to get this group to stop laughing than to get them started. Not that I tried very hard.
But, of course, Singaporeans are not known for being frivolous. They are known as industrious, goal-oriented individuals. And that's also true.
When I think of someone being 'Singaporean', I usually think of Nicole. As a Chinese, born and raised in Malaysia, she embodies the multi-cultural aspect of Singapore.
As a working woman, she is typical of this country, where businesswomen can be as successful as men.
And like many younger people, she's interested in the 'quality of life' issues that older Singaporeans didn't have the luxury of pursuing.
She's ambitious. She's curious. She's thoughtful. She's passionate. She's smart. She's funny.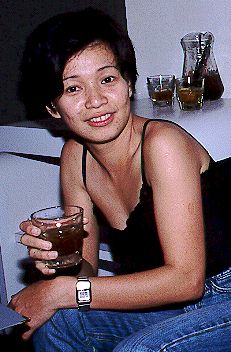 Nicole