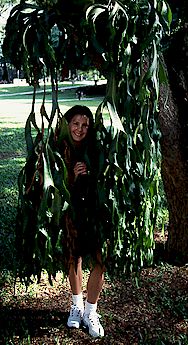 Garden of Eden?
Singapore living, in a nutshell:
Five days a week, this is one of the best cities in the world to live in:
- It's clean and green, and the transportation is excellent.
- Singapore has an intriguing mix of races and cultures. Hindu, Malay, Chinese, Filipino, Indonesian, Japanese, Europeans, and more.
- The food is diverse, inexpensive, and mouth-watering.
- The architecture is varied and interesting.
- There are geckos everywhere (geckos are on my 'cool' list).
- It's tropical - pleasant and predictable - great for outdoor dining.
- Everything's in English and/or Chinese. If you can't manage one of these two languages, the odds are that you don't live on Planet Earth (statistically, this is a true statement).
-And you can make great friends here.
On the other two days of the week (Saturday and Sunday, for the calendar impaired), Singapore is one of the best cities in the world to get out of. I mean that in a good way (mostly):