On our trips to Hsinchu, Angie and I have made two journeys to Taipei. Go to The National Museum, for sure, and to the Jade Market, if you must. But there are three other things that I think you are a fool to miss.
First - everyone should go to the Chinese Opera School. The students put on an acrobatics-filled performance of Green Snake. It's colorful, entertaining, with stunts that will amaze you.
Before we arrived, we were worried about our tolerance for this art. The Chinese 'opera singer talking in a high pitched squeaking voice' Torture is much more painful than the Chinese Water Torture, I'm sure. Fortunately, speech is kept to a minimum in this performance, and the physical action runs from start to finish.
It's over much too soon.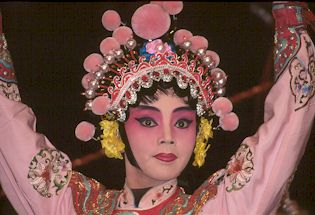 Chinese Opera
Second - A Lungshan Temple visit is mandatory. This is one of those rare Asian places that really feels Asian. You'll see all types of goings-on here. Vendors, Political Gatherings, Fortune Tellers, Distraught Widows, Tour Groups, and Card Players.
It is truly a community center, full of energy, mood, and magic.
See it at day and at night.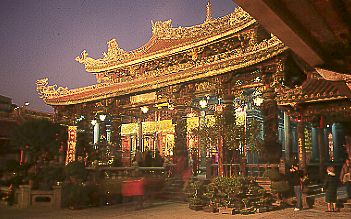 Lungshan Temple at Night
Finally, the best place to go, if it's a sunny Sunday, is the Chiang Kai Shek Memorial. If you're trying to get directions, point at a map. No one knows the name Chiang Kai Shek. His Chinese name is completely different. They give him a name that's easier for western people to pronounce, but then they don't recognize it!
Anyway, on Sundays, you'll find this park filled with students, in-line skaters, Filipina maids on their day off, kite flying families, dancers, an occasional band, photographers, and tourists. Watch the changing of the guard, visit the museum, walk the gardens, and enjoy the people watching.
Taiwanese people are friendly and fun, so don't be afraid to approach them.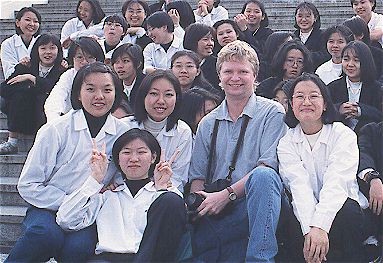 Blending in with the locals