This is what 'Range of Vision' is all about. There is always a disconnect between what we 'know', and what 'is'.

Normally, based on the guidebooks, I would have skipped Phuket. But it was winter in Japan, and a beach holiday was just what the doctor ordered.
We got there during the peak season, expecting the worst. Instead, we found a fair number of tourists, but no 'onslaughts'. We were always able to find an empty spot on the beach.

I love Bali, but I found Patong Beach much better than Kuta Beach. Better swimming, better beach, more relaxed.

And unlike Bali, this is a culture that knows what to do with seafood. You have to eat fresh fish, when you're in Phuket.

The Limestone Karsts of Phang Nga
The comment about planned activities is true, but not really fair. Most of the activities revolve around the water. Diving, boating, etc. It's pretty difficult to do an 'unplanned' dive or boat trip.
This isn't to say that the guidebooks are wrong. The important lesson is that guidebooks are written for a specific audience. You need to make sure that the guidebook you buy is written for your budget, and your interests. There are many versions of the truth.
Speaking of boat trips, I highly recommend a kayak tour of Phang Nga. You'll get a scenic boat trip with a fun crew, some exercise, cave tours, views of monkeys, monitor lizards, bats, and mudskippers, and a tasty seafood lunch.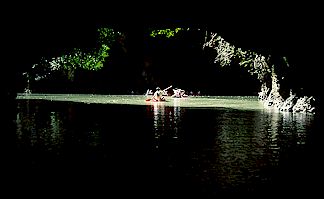 Kayakaing a Phang Nga Cave
You may have heard of the sex scene in Phuket. Everything you've heard is true. I'll leave it to you to decide if it's sad or wonderful, whether it degrades or empowers women.
It's there, there's a supply and a demand.
If you want to see what the deal is, it's safe and easy to sit at the outdoor bars in Patong and watch the nighthawks go to work.
Angie and I sat one night and played some bar games (3D tic-tac-toe, if you must know) with the lady at the bar and watched the pairings occur.
It's really no better or worse than Japan, Singapore, or America. It's just more open.'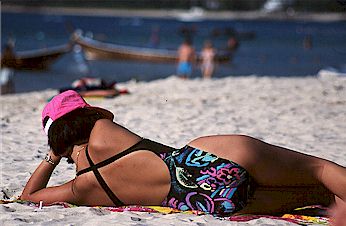 Planned Activities? On the beach?
Anyway, we had a great time in Phuket, and will return sometime. I would say that the only major negative to visiting Phuket, is that it isn't 'really' Thailand. There's very little in the way of temples, culture, or history.