Snorkeling over colorful reefs, I watched parrotfish munching, rockfish lurking, and smaller fish darting among the staghorn, brain, tabletop, vase, and flower corals.
At one point, I was floating through a school of small yellow fish, listening to the sound of my breathing, when the fish suddenly disappeared. I wondered why, until I noticed two six-foot long sharks, about ten feet to my right.

Cool, I thought. I was pretty happy to see sharks so close.
I turned to my left, making sure I was not drifting towards a nearby rock wall, and saw another shark, about five feet away from me.
Um, now I'm surrounded, I thought. While these sharks were probably not dangerous, I wasn't comfortable floating in the middle of them.
So I swam to the rock wall, putting all the sharks on my left, until they swam away, oblivious to my concerns.

With the sharks gone, I resumed drifting in body and mind, over the reefs.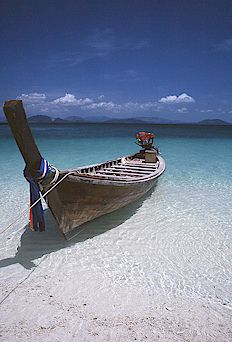 The View from Koh Kai Nok