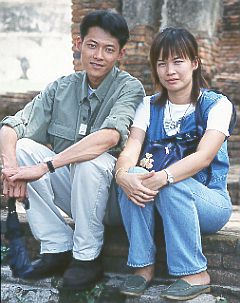 Jetsada and Mai
The People of Bangkok
The best traits of Bangkok are the traits that the tourist almost never sees.
The generosity, the 'true' friendliness (hey, I love the incredible Thai smile as much as anyone, but sometimes it's a friendly smile, and sometimes it's just a smile), and the good humor of the people of Bangkok is a treasure.
Once you know Thai people, like my friends Jetsada and Paisan, or my once-and-future drinking buddy, Moo, you can know Bangkok.
There are, however, many rip-off artists working the streets of Bangkok who will want to be your 'friend'. Run from these guys.