But it was a good town to grow up in. It was small enough that I knew the layout intimately. Small enough that I knew, by sight anyway, almost everyone at my high school of 1,500 students. Large enough to have movie theaters, and McDonalds. Large enough that I didn't know everyone in town.

Watertown is in Northern N.Y., about an eight hour drive from New York City. It has more in common with Canada, than with the Big Apple. We always got a little irritated to hear Woodstock described as 'Upstate New York'. Woodstock is four hours south of Watertown.
I suppose people in Eureka, California feel the same way, when they hear of San Francisco referred to as 'Northern California'.
It's like calling Dallas 'Upstate Mexico'.

Some Fun Facts about Watertown:
-Melville Dewey was born in Watertown. He invented the Dewey Decimal System. You know, the one that tells you where the books are in the library.
-F. W. Woolworth opened the first Woolworths 'five and dime' store in Watertown.
-Vanessa Williams was crowned Miss New York State in Watertown, before she won Miss America, before she won great acclaim for creative posing in Playboy, before she became a singing sensation.
-Before he died, singer/songwriter Harry Chapin said of Watertown, "I spent a week there one night".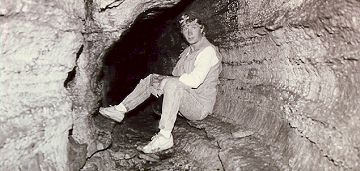 Caving in New York - 1983
Anyway, in Watertown, I went to school, played hockey and football, lived and died with the Yankees/Giants/Rangers/Knicks, dabbled in photography, hung out at the beach on Lake Ontario, worked in the circulation department of The Watertown Times, and explored the local limestone caves.
Spelunking is an activity that involves ropes, maps, backup lights, preparation, and respect for the dangers of nature.
Caving is an activity that involves low budgets and high adventure (okay, and a little ignorance).
We were definitely cavers.
I also discovered rock and roll in Watertown (admittedly, a lot of other people beat me to it, but I did get there).
Rock and Roll would fill another web site, so suffice to say I learned more there than in school. I played in quite a few bands including Mickey Torpedo (we stole that one from an issue of National Lampoon) and Quik Fixx (ok, I didn't learn spelling in a rock band - but for our logo we needed a balance that wasn't provided by a five letter word with a three letter word).
Eventually, the rock and roll dream faded, college beckoned, and I headed to Ohio. Or as we put it, 'Halfway to L.A.'
Geographically incorrect, I know, but - mentally - one foot out your hometown is halfway to anywhere else.