We spent four days in Yogya (as the locals call it) and saw all the major highlights.

I could write about the palace. I could write about the arts (batik, shadow puppets, dances). I could write about many things. But a guidebook will tell you about all of that.

I will tell you instead, about a walk I took one morning.

The city is full of colorful houses and colorful people.
In a ninety minute walk, I shot three rolls of film. I was fed three times. I had, according to my notes, 11 conversations. The people I met ranged from 6 to over 60. Literally.
I sat with old women who were preparing for a party. They fed me fresh crackers, and some rice stuff. I met other middle aged women who fed me coconut sweets. I talked with a twenty year old and her grandfather. I stumbled into a schoolyard and was mobbed by dozens of beaming, hand shaking elves. I turned around a dark corner to find an old man and women frying unidentifiable stuff in a thousand year old (or so it looked) wok.
They, of course, fed me. It was really tasty, too.
These were not random acts of hospitality. This was an entire city where the 'lowest common denominator' appears to have had its' charm and grace raised to the level of a royal family member. Amazing.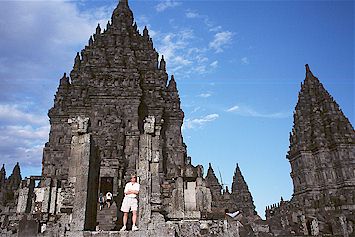 Prambenan Temple
As for the main sights there: Prambenan Temple, an ancient Hindu structure, and Borobudur, an ancient Buddhist monument, are enough reason to justify any trip to Yogyakarta. Both are filled with intricate sculpture, and will inspire anyone who loves architecture, religion, or culture.
You should not be surprised to see a dancer grace this page.
From Hawaii to Thailand, China to Malaysia, Japan to Indonesia, dance is a real part of life, in ways that are strange and exciting to an American.

If I have not learned anything else in Asia, I have learned that people are compelled to dance.
A people who do not dance would be a people who are lacking something vital.

Yogyakarta is famous for its' Ramayana dances. The Ramayana is a great story; a Hindu epic that is present throughout Asia.
The Yogyakartan version is quite different from the Balinese version, and well worth seeing.

As is Yogyakarta.


A Ramayana Dancer