RANGE OF VISION
Wanderings - Chiang Mai
---

Traditional Architecture

Chiang Mai, Thailand

Chiang Mai was the Thailand we were looking for, and the Thailand that we've fallen in love with.

The funny thing is, once we found Thailand in Chiang Mai, we were able to find it in Bangkok.

Apparently, you need to be saturated, before you can recognized the subtleties.

But you can't get saturated here. No matter how many temples I visited (a lot), how much great architecture I saw (I am a HUGE fan of Thai architecture), or how much Thai food I ate, I couldn't get enough.

Chiang Mai delivers on all the promises that the tourist brochures make about Thailand.

Elephants in the jungle. Monks in saffron robes. Buddhas, Buddhas, and more Buddhas. Smiling people. Can't get enough...

So, we've returned and returned again to Thailand.


Angie and I try, but can't compete with the Thai smiles of Jom and Wan
Jom and Wan acted as our guides to the splendors of Chiang Mai.

They taught us about Thai Buddhism, about 'lady boys' (Thailands' transvestites), Thai marriage, and more.

We went to tons of temples, saw handicrafts made, learned about Thai life, rode elephants, ate the flavorful northern cuisine, visited a few hill tribes, enjoyed Thai massage, and, best of all.....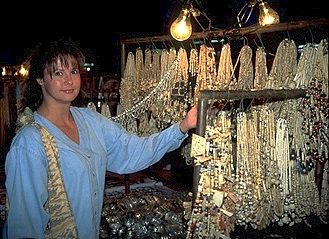 Angie needs beads
Marveled at the night market. Easily the best night market I've ever seen. Handicrafts abound, and knock-off clothes of every type. It's massive. The prices are right. Somewhere, there will be something you want. You can imagine how we reacted, being there during Christmas season. ("my dad will love this, my mom needs that, etc..")

In addition, there are free dances every night on the stage, and a huge food court with a saliva-inducing choice of Thai foods.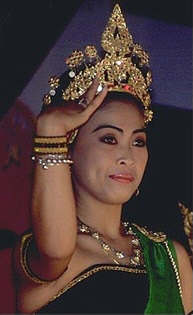 Another Pretty Thai Girl (yawn..)
A word about Thai women.

Yes, the Thai smile is world famous. But it's difficult to rank the Thai smile any higher than Thai hair, Thai skin, Thai eyes, Thai lips, Thai legs, Tie me down and stop me now!

It seems obvious that God created Thai women after he learned his lessons from all the women in the world. All the worlds' women have their own charms, and the Thai woman has all of them.

Of course it's just a theory....