The week we got there, there had been massive flooding. The rain continued most of the time we were there.
My main impression of Korea was of the food.
Korean food answers the question, What would happen if you morphed a vegetarian and a Texan?
Not that anyone was asking, but big slabs of meat wrapped with giant leaves of lettuce must be the correct answer.
Korean barbecue (bulgogi) is an excellent communal meal.
Marinated meat, chicken, and prawns are cooked in the middle of the table, dropped into various leaves, then filled with chili sauce, garlic, or other condiments. This is accompanied by rice and kimchi (spicy fermented cabbage). You should learn to like kimchi. It's served with every meal, and the smell is unavoidable (besides, it's really good).
Every meal we had was good, and one night we had an amazing dinner.
I'd love to get back there again to see more of the country (and eat more food).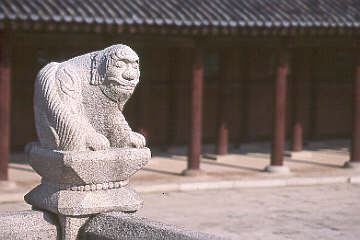 Seems like a happy fellow
We had a couple of free days to visit the palaces. So we did.
I spent one day at Kongbok-kung Palace, then took Angie to Ch'angdok-kung Palace and garden. The architecture of both was interesting. Halfway between Chinese and Japanese architecture, which makes sense, I guess. I was especially taken by the wall design. It's creative, without being overdone.
We walked through the Insa-dong area, looking at the old houses and the Buddhist stores, then towards the Tongdae-mun Market and Gate. I bought some ginseng for a friend, and Angie prowled around the market for awhile.
One thing you notice quickly, is that there are a lot of police around the downtown area. More than I've noticed in any other Asian country.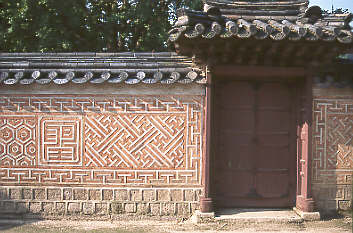 Ornate Wall Design
We also spent a day wandering around Itaewon, the famous shopping area, with Matt Brown (KLA's answer to Jean-Luc Picard). I didn't buy anything. Just looked around at the fake watches and cheap suits.
It was impossibly crowded there. No matter which direction I went, it was the wrong one. Matt and I were always swimming upstream, so we spent a lot of times looking for eddies to rest in.
That night, we ate at a Planet Hollywood. I wasn't surprised to hear that it later went out of business. It was so far from anything, that you couldn't even say it was close to nothing.
We stayed at the Lotte World Hotel, also known as the 'Gaudy World' to those who have been there many times. It's got a shopping mall in it, along with an amusement park, an ice skating rink, and a museum. I kinda liked it.

It's very close to the Olympic Park, so one afternoon, we strolled through the park. It's a pleasant enough place, though you shouldn't make a special trip there.
At one spot, I stood above a 50 foot wall and took a picture of the scenery. As I was covering my lens, I dropped my lens cap over the edge. Oops. It would take a fairly long walk around to get it.
Fortunately, two Korean girls happened by at the same time. They took turns trying to throw the cap up to me, until one throw finally succeeded.
I thanked them by taking their picture.


Korean Fairies.