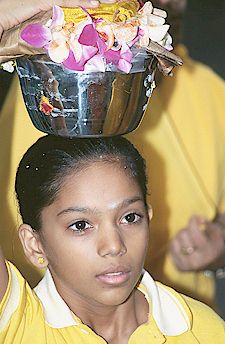 A Simple Offering
Still, it was an extraordinary event. It's not simply tradition or ritual, like so many religious ceremonies I've seen. This was an intense demonstration of belief and devotion.
It was a public event, attended by thousands, yet it appeared that every individual was alone at some point, even amidst the throngs, communicating with their god.
Glimpses of these personal moments sometimes made Kevin and me uncomfortable, as though we were intruding, but, these were, of course, the moments that stick with us.
For the next two days, we would look at each other, and still not believing everything we had seen, shake our heads.
At one point, I had said, "It's amazing, that we could see all this, and be back in an air-conditioned office, doing high tech work, by nine a.m."
I was commenting on the age old juxtaposition of the ancient and the contemporary.
But I was wrong.