We went to Ayers Rock (Uluru), Kata Tjuta (the Olgas), Ormiston Gorge, Palm Valley, and Kings Canyon.
I had prepared myself to be disappointed by Uluru (Ayers Rock).
"Don't get your expectations up," I kept saying to myself. "It's just a rock".
Well, Uluru is just a rock in the same way that Michael Jordon is just a jock.
It's easy to see why the Aboriginals found this to be a spiritual place.
We saw it at sunrise. We saw it at sunset. We explored around its' base. We climbed to its' top. We took a flight over and around it. It surprised us from every angle.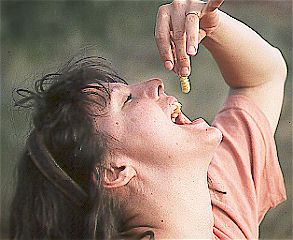 A Witchity Grub Snack
Another surprise was the amount of plant life in the Australian desert (as opposed to the American desert). A lot of things have found a way to live here.
The camping was much more pleasant that I expected. I expected hot, dry, and dusty, but we were able to camp in shady spots near waterholes. The heat wasn't so bad, either, though Australia's legendary flies lived up to their reputation.

Aboriginal Art in Kakadu
Of course you can't talk about the Outback without mentioning the Aboriginals. Scientific records show that the Aboriginals have been present here for 40,000 years. They have a strong culture, filled with art, music, dance, and the 'Dreamtime'.
You need a permit to enter Aboriginal grounds, so there isn't much interaction between the tourists and the locals.
In Alice Springs, they mostly stay in the distance, under the shady trees.
In Katherine Gorge, our guide was a local, named Reggie. We got to talk to him for awhile, he was a good guide, and a pleasant man.
On one other occasion, we exchanged pleasantries with a group of aboriginals, who commented that Angie "smelled nice".
Given the depth of their culture, our inability to spend more time getting to know the Aboriginals was probably my greatest disappointment.
But, there's always next time!
More Australia
-See the wildlife
-Sydney to Caines