On Kangaroo Island, you can see koalas, kangaroos, wallabies, opossums (I'll never forget seeing my first opossum, then hearing him 'thump' under the wheels of my rental car. Oops), pelicans, parrots, penguins, and sea lions.
If you try hard, you might even see more.
It's like a mini-Australia, with a dozen micro-environments. There are sand dunes, great beaches, eucalyptus groves, dramatic cliffs, and lots more. The wildlife is approachable, as it has little to fear (except for cars). About half of the island is national park.
There are no real hotels, or night life (other than animal spotting). There is a youth hostel, but we found the best accommodation plan to be renting a house for four nights.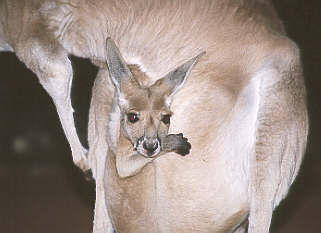 G'day Mate!
I kept finding myself comparing Australia and Kangaroo Island to Noahs' Ark. Two of everything, saved from the deluge. Of course, a look at the history of nature in Australia renders such a thought laughable, but given the ease of spotting creatures, one can be forgiven for such thoughts.
In the outback, we saw mostly kangaroos and wallabies, along with a fair number of birds, and a couple of dingoes.
Up north, we saw a fresh water crocodile, and a salt water crocodile, along with tons of bird life, some goannas, and huge termite mounds.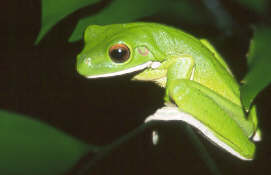 Green Tree Frog
Near Caines, we spent some time in Daintree Rainforest and did a few hikes there. One of the highlights was spotting some green tree frogs. I caught one, and he jumped onto Angie's chest. They are just as cute up close as they are in photos (or just as disgusting, depending on your opinion of frogs, I guess).
More Australia
-Sydney to Caines
-Visit the Outback