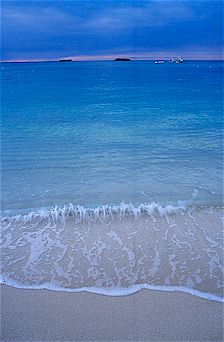 Manza Beach
We spent two more days at Manza Beach, which is about an hour north of Naha, on the west coast.
It'd be pretty tough to find anything wrong with the Manza Beach Resort (as long as you ignore the mortar practice on the nearby hill, which is pretty tough to do).
It's got clear water, beautiful white sand, lots of shells, a perfect sunset view, nice rooms, excellent food, and Japanese service.
So, we relaxed on the beach, played a round of mini-golf, listened to the waves, watched two colorful sunsets, howled at a full moon passing overhead
The water's warm, the sun's hot, and the sake's cold.
What more could you want?
-A closer look at the Shisa
-A closer look at Okinawan Music