The Wanderers' Guide to Indonesia
13,677 Islands, half of them unpopulated.
180 million people (half of them on Java).
Hundreds of languages.
About the only common threads are rice and volcanoes.....
And the attraction these islands have for adventurous travelers.
Bali, Jakarta, Sumatra, Borneo, Sulawesi, Irian Jaya, Komodo, Maluku, Krakatoa, The Spice Islands, Kalimantan, Timor, Bandung; just saying the names conjures the spirit of adventure and excitement.
It would take three lives to see more than a glimpse of the variety that is Indonesia, but hey, we can try anyway. Come with me to Indonesia.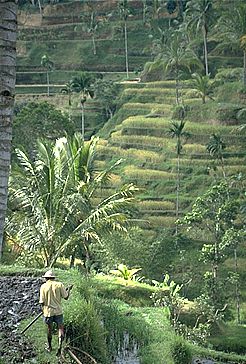 Volcanoes and Rice Fields