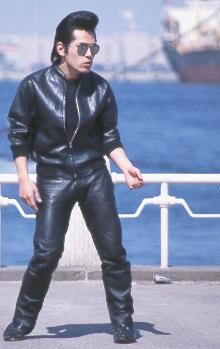 A Legendary 'Dancing Elvis'
Other Reasons to love Japan
Japanese Food
I get serious cravings for Okonomiyaki, Takoyaki, Sushi, Sashimi, Katsuo-no-tataki, Basashi (raw horsemeat), Lemon Chu-hi, Sake, and Miso Shiru.
Garlic Jo's, in Yokohama, is one of my favorite restaurants in the world (pina coladas, spicy squid, and garlic pizza). Also, any Izakaya (a Japanese version of a pub, in that you're there as much to drink, as to eat).
And Plastic Food Displays, Beer Machines, and Hot or Cold Towels.
Those hard to describe daily sights
Automatic Taxi Doors (don't, I repeat, don't try to shut the taxi door, unless you like pissed-off drivers).
Elevator Girls, The Dancing Elvises, and Bodi-con Girls.
Public Urination, Yakuza guys who are really nice to Americans, and Heated toilet seats that cater to your every wish (or fear).